Home • Press • Media • Contact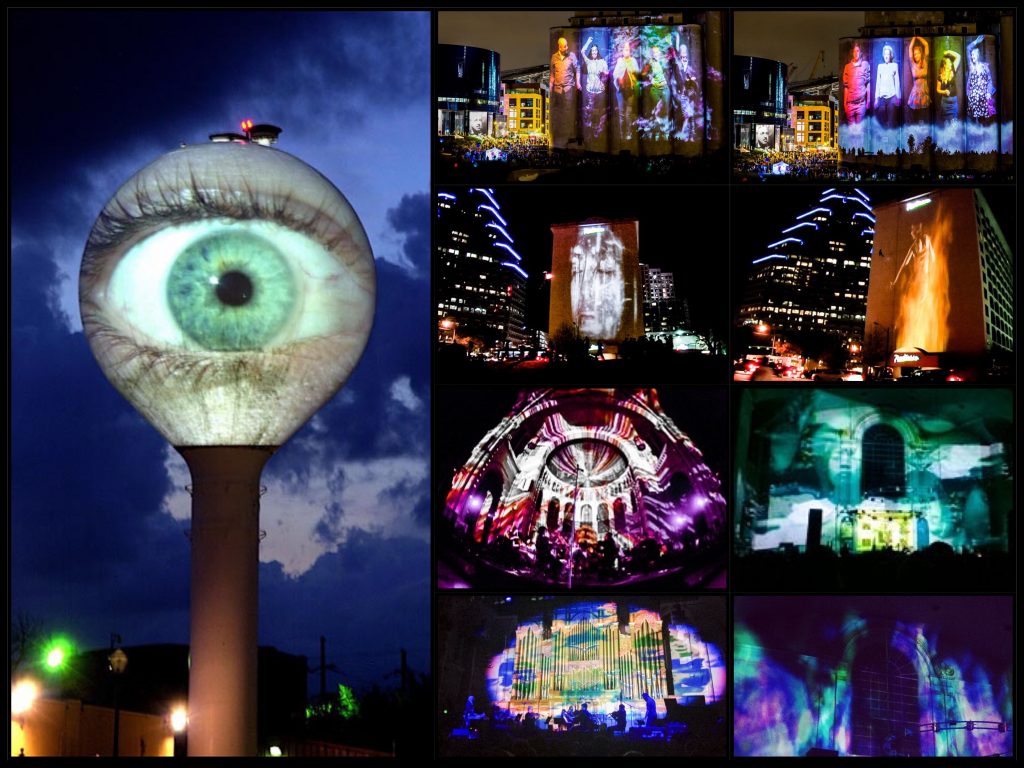 Luke Savisky's projection installations, performances, "film actions" and light-based artworks have transformed natural and architectural settings for audiences from 1 to 50,000, exploring and stretching the limits of visual media worldwide. His use of vintage film and contemporary digital technology and materials combines manual 16/35mm film montage, mobile projection, kinetic sculptural forms, diffraction and oblique distortions, 3D projection surfaces, abstract light sculpting and live camera feeds. Many works include live and recorded music compositions and sound installations, live choreography and performers and audience interaction in unique and unlikely environments. His work often explores themes of evolution, environment, conflict, surveillance, control, transgression, perception and the infinite modes of love, spirituality, empathy and community that form societies and the essence of the individual.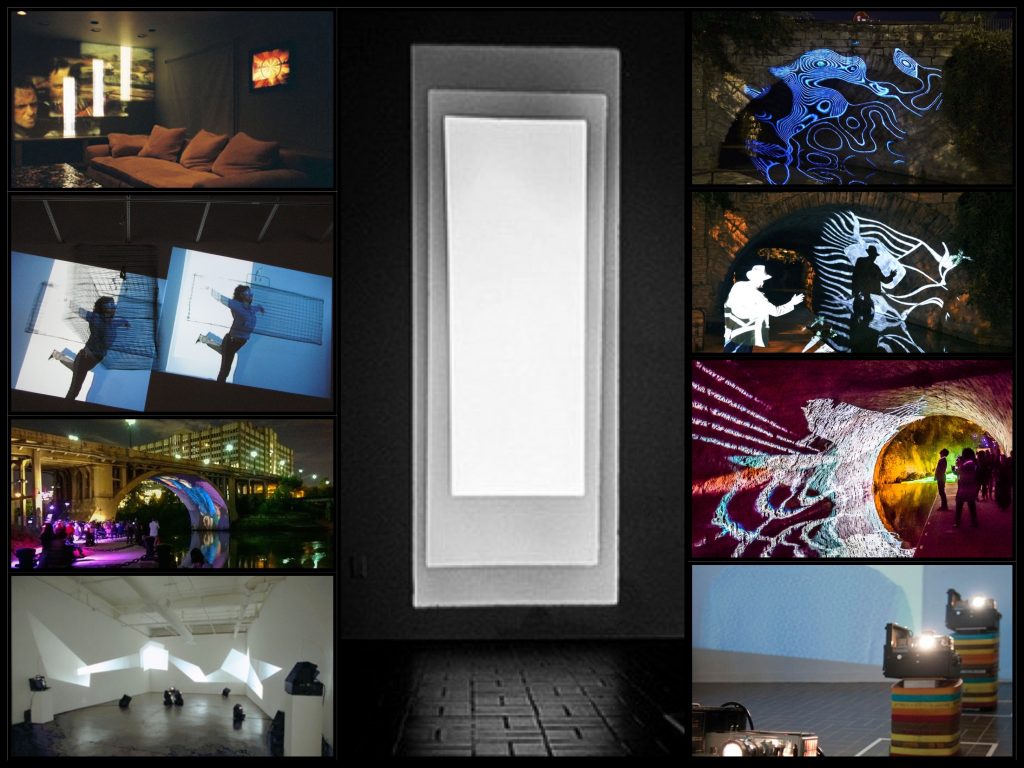 Large scale projects include: 
The Eye of Texas (I/Tx), a mind altering interactive projection of First Night Festival viewer's eyes onto the historic 85ft tall Green Water Treatment Plant water tower in downtown Austin; 
E/x MN, a large scale piece projecting gigantic live images of festival goers engulfed in swirling flows and vortices of river water and natural imagery onto the silos of Minneapolis' monumental 240ft tall Gold Medal Flour Elevator on the banks of the Mississippi River for the Northern Spark Festival, 2015; 
ST/x for the In Light In Festival in Indianapolis, which featured live images of audience members dancing and moving on a specially constructed stage, their bodies bending, distorting and fragmenting in kaleidoscopic three dimensional forms within abstract imagery across the 60 ft arc of high pressure water mist.
Savisky was chosen as official media artist for the Sundance Film Festival 2005 and received a Creative Capital Foundation grant in 2007. He is the recipient of other awards and grants including the UNESCO world heritage arts fund through SXSW 2018, The Texas Filmmakers Production Fund, the Austin Film Society's first D. Montgomery Award, and the Austin Table of Critics Award for Best Individual Project for the Eye of Texas. Savisky was also nominated for the first Arthouse Texas Prize and the Rockefeller Foundation New Media Grant.
Many of his artworks and cinematography have involved US and global collaborations with myriad filmmakers, dancers, artists, choreographers, musicians and composers (even rappelling teams) including members of Nederland's National Dance Company, Stars of the Lid, Brian McBride, Winged Victory for the Sullen (Adam Wiltzie of Stars of the Lid and famed piano composer Dustin O'Halloran), composer Graham Reynolds, pianist Michelle Schumann, The Flaming Lips, filmmaker Bradley Beesley, Austin post punk power trio Ed Hall, Sixteen Deluxe, Poi Dog Pondering, the Aurora Picture Show and the Alamo Drafthouse Rolling Road Show.
Savisky designs visuals and tours internationally with ambient music icons, Stars of the Lid (as the "invisible" third member behind the projection equipment). He has been with SotL since their beginning, designing captivating, mesmerizing projection onto the soaring ornate interiors of cathedrals and churches, theaters, city halls, museums, galleries, and planetariums worldwide. SotL performed in Reykjavík, Iceland in December 2017 at the beautiful Harpa Hall for Norður og Niður Festival, curated by long time SotL fan, Jonsi Birgisson of Sigur Rós. SotL was booked alongside renowned musical luminaries such as late Icelandic composer Jöhann Jöhanssonn (sci fi hit Arrival, Sicario, Mandy, The Theory of Everything) , composer/producer Kevin Shields of My Bloody Valentine (Sofia Coppola's Lost in Translation), DIY electronica transgressors Peaches and Dan Deacon and a host of other peers and influencers. SotL have appeared at many other festivals and in numerous solo tours around the globe, including the famed musician programmed festival series All Tomorrow's Parties, curated by The National and Explosions in the Sky.
Upcoming projects include smaller scale works in Austin, site searches for the continuing large scale outdoor Creative Capital sponsored installation series in the American West and Europe, early pre-production on a film document of his collaboration with Stars of the Lid and a return to Iceland in the form of a very special site specific project.
More media coming soon. The website is under construction.